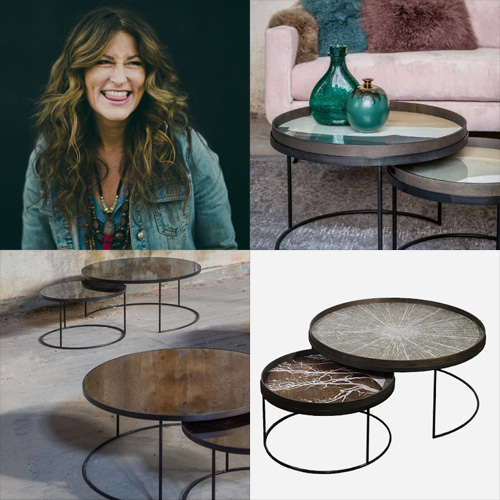 notre monde
Established in 1997, NOTRE MONDE was conceived from artist Dawn Sweitzer's idea of creating one-of-a-kind, functional objects inspired by travel, nature and the beautifully simple objects found in everyday life.
As the brand grew and demands increased, the year 2013 presented an opportunity for expansion in a partnership with Belgian home furnishing label Ethnicraft. The collaboration widened NOTRE MONDE's reach in the global marketplace and brought opportunities to create exclusive designs for international retail partners.
Today, the NOTRE MONDE brand is recognized for its quality and distinctive aesthetics. Global patterns, textures and layers are translated onto our pieces with traditional printing and hand-finishing techniques. The exceptional process contributes to the unique quality and authenticity of each NOTRE MONDE piece.
Luxury and function.
WELCOME TO OUR WORLD.
Dawn Sweitzer
Dawn is a self-taught artist with midwestern sensibilities and a sophisticated eye for style. Founder of NOTRE MONDE, she draws her inspiration not only from her extensive travels all over the world, but also from her design projects in Europe. She now lives in North Carolina. She is inspired by the things around her. Whether it is a song, a book, fashion, the texture of a painting or people she loves, her surroundings are her source of inspiration. She selects things that speak directly to her, lending authenticity to her work. The NOTRE MONDE brand is a direct expression of Dawn's immersion into various cultures and the diversely meaningful ways in which people embrace the good life.