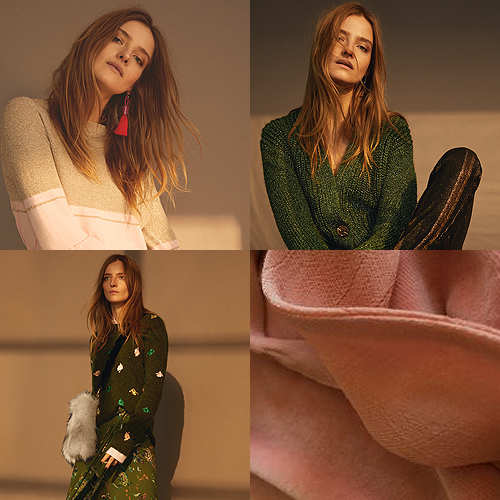 Gustav
Gustav is a jewel for every woman who wants to sparkle. Seek and find inspiration by checking out our collections. Look closer! With an attentive eye for detail and luxurious materials, GUSTAV circles a subdued bohemia, offering effortlessly elegant fashion to the modern woman.
Established in 2009, Gustav is a Danish-based international fashion brand catering to women who feel at home in the world.
GUSTAV was founded in Denmark in 2009 and has strived to create lasting, feminine styles ever since. GUSTAV is complex and sophisticated. The overall effect is lean and Scandinavian, but take a closer look and you'll find intricate and intelligent design details – a coated button, a carefully laced lining or a boldly embroidered sleeve.
The GUSTAV woman is not afraid to stand out in a crowd – all GUSTAV styles carry a certain wow effect. With mix & match patterns and textures, every woman can style a perfect outfit from GUSTAV's collections. Because GUSTAV puts great effort into creating cohesive collections.
It's always easy to combine the perfect outfit and add items from the new season to your old GUSTAV favorites. Mix a pair of rich brocade capri pants with a lush, airy top made from sustainable Tencel, or match a bold Paisley print with a subdued mini check pattern – it all goes together.
GUSTAV's collections are versatile, not unlike the women they're designed for. Dress it up, or dress it down, GUSTAV is inherently casual – but with an intrinsic air of exclusivity, it's just as easy to style GUSTAV for everyday life as for that one special occasion. In addition, GUSTAV has spent years chasing the perfect fit, so all styles are equally gorgeous and comfortable.