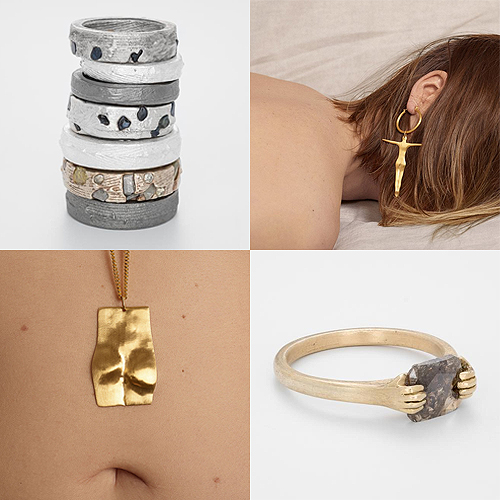 BJØRG JEWELLERY
BJØRG JEWELLERY was founded by Bjørg Nordli-Mathisen in 2004. Living in India at the time, she was introduced to the traditional craftsmanship and ancient jewellery traditions, which inspired her to start making her own one-of-a-kind jewellery.
Her first collection was launched at Liberty in London, and today BJØRG is carried by high-end jewellers, fashion boutiques and galleries around the world. Raised in a small town in the northern part of Norway, BJØRG has maintained a strong appreciation and respect for nature. Always aiming to balance the raw and the refine, there is a certain darkish, raw and organic feeling to all her work, reflecting her Nordic soul.
Through focusing on the rare beauty of imperfections, her trademark has become her use of rough precious stones in combination with crafted metal textures. As an artist BJØRG has a conceptual and sensible approach to design. Inspired by the wonders of nature, past myths and visions of the future, BJØRG merges past and present to create modern relics, always looking to push the limits for what a piece of jewellery can be.
BJØRG has been worn by artist such as David Bowie, Madonna, Rihanna, Lady Gaga, Robyn and MØ. Editorial coverage include Vogue, ID, Dazed and Confused, Elle, Another Magazine, Hunger, WAD, Marie Claire, L'officiel, New York Times, Wall Street Journal and others.
Accessories brand of the year Costume Awards 2013. Accesories brand of the year Nåløyet 2011. Shortlisted UK Jewellery designer of the year 2011
Over the past years Bjørg has collaborated with several international artists and designers. In 2016, BJØRG and NYC-based Norwegian artist BJARNE MELGAARD released their own fine jewellery line, «A casual pleasure of disappointment», exhibited at Gavin Brown´s during NYC fashion week, and at Astrup Fearnley Museum of Contemporary Art, Oslo.
BJØRG strive to uphold a sustainable and ethical practice in every aspect of production. All BJØRG pieces are handmade and all materials are 100 % natural and obtained in accordance to environmental preservation.