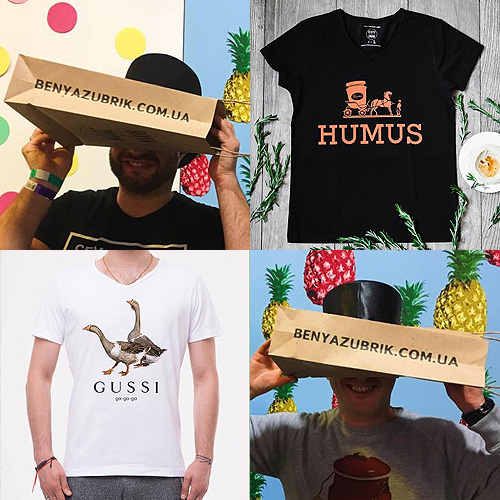 Benya and Zubrik
Hi! We Benya and Zubrik.
Your designers of good mood and just two hooligan natures in the world of "fashion feschen".
We were asked 5 express questions, which we answered as quickly as possible.
Journalist: Rhyme for the word gucci?
Benia: Heaps
Bison: Uyuchi.
Benia: There is no such word.
Bison: There is no word, but there is rhyme.
Journalist: Your most provocative T-shirt?
Bison: COMME GDE CONDOMS?
Benia: In vain I gave her grandmother.
Journalist: There is a t-shirt "Sorrel", there is a t-shirt "Kinza". Are you vegetarians?
Bison: No, we are Jewish.
Benia: And we have a T-shirt with a carrot, but this does not mean that we are rabbits.
Journalist: Where do you get your inspiration from?
Bison: From the inspirational Pump room.
Benia: You forgot to say that we scoop it with a scoop.
Journalist: What will be your next episode?
Benia: Successful
Bison: Funny.
Benia: As the answer turned out predictable, let's better this: The series will be devoted to the history of foam concrete.
Bison: Great, this is a new hit, urgently in circulation.